Our sanctuary is available for weddings and memorial services, and the historic cemetery still serves the families in the church and local community. Several times a year, we provide a rest stop for bicycle groups that raise funds for cancer research and for community service organizations.
Our members actively support the work of the Cents-Ability Hunger Program of the Presbyterian Church (USA), the Two Rock School, the Two Rock Volunteer Fire Department, Petaluma People Services and Christmas Cheer.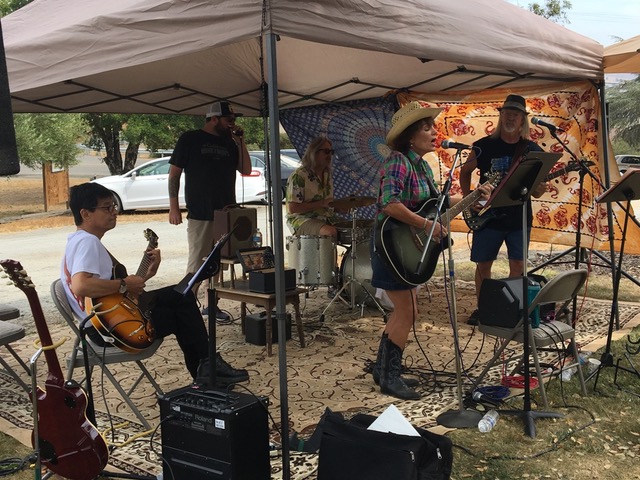 The Abelskiver Breakfast on Mother's Day and the Harvest Festival on the third Saturday in September are fundraising and community events that bring together many friends and neighbors. Trunk-or-Treat on the evening before Halloween is a big treat for local families.
Presbyterian Women (PW) is a ladies' group that meets monthly for study, fellowship, and mission projects.
The Quilting Group meets each week to create beautiful hand-made quilts that are sold at Harvest Festival or donated to local community agencies. On Tuesday mornings a group meets to work on their handcrafts and to enjoy each other's company.
Church Events to watch for:
Mother's Day Abelskiver Breakfast and joint worship – Mother's Day
in the Two Rock Fellowship Hall 7:30 – 10:30 am, followed by a service in the sanctuary at 11:00am;
Tomales Founder's Day – Joint Service in Tomales at 10:00 am – First Sunday of September; parade at noon followed by festivities in the Tomales Community Park;
Annual Harvest Festival – Saturday 25th September 2021, 10:00 am to 3:00
Fresh local produce, quilts, crafts, baked goods, raffle, silent auction, children's games, 4-H animals, Chicken BBQ starting at 11:30.
READ THE LATEST NEWSLETTER HERE
HISTORIC PHOTOGRAPHS OF TWO ROCK FROM 100 YEARS AGO