Our sanctuary is available for weddings and memorial services, and the historic cemetery still serves the families in the church and local community. Several times a year, we provide a rest stop for bicycle groups that raise funds for cancer research and for community service organizations.
Our members actively support the work of the Cents-Ability Hunger Program of the Presbyterian Church (USA), the Two Rock School, the Two Rock Volunteer Fire Department, Petaluma People Services and Christmas Cheer.
Watch the Religion and Resilience interview that Pastor Brook did with Chaplain Ryan Williams of the Coast Guard Training Facility in Petaluma. She draws on her experience as a hospital chaplain at UCSF, as well as her own experience losing her mother. https://youtu.be/12ewPs4sIrQ
This year, instead of hosting an Abel Skiver Fund Raising Breakfast in Two Rock the church joined forces with Tomales to produce a fund raising concert, the "Kick Off to Summer" concert, to raise funds for the Community Emergency Fund. It was well attended and everyone enjoyed the show and the cheese and wine afterwards.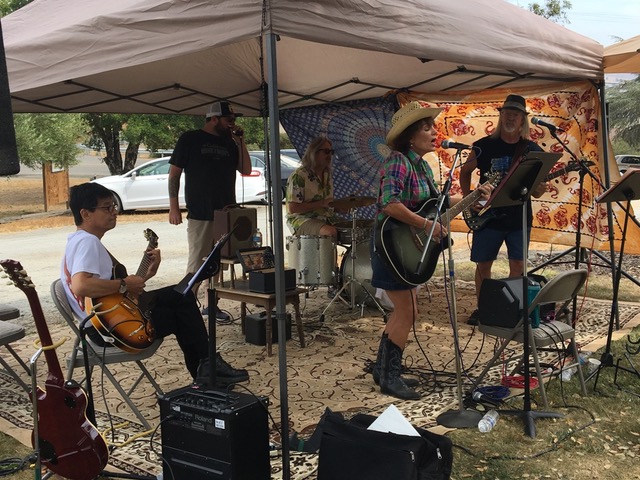 The Harvest Festival on the third Saturday in September are fundraising and community events that bring together many friends and neighbors. Trunk-or-Treat at 6:30 on the evening before Halloween is a big treat for local families.
We have an active social group that meets up every Tuesday to chat and work on their various handcrafts. Anyone is welcome to come along.
The Quilting Group meets each week up until Harvest Festival to create beautiful hand-made quilts that are sold at Harvest Festival or donated to local community agencies. The quilts are available to buy though out the year and can be viewed here.
Church Events to watch for:
Mother's Day Abelskiver Breakfast and joint worship – Mother's Day
in the Two Rock Fellowship Hall 7:30 – 10:30 am, followed by a service in the sanctuary at 11:00am;
Tomales Fair – Joint Service in Tomales at 11:00 am – First Sunday of September; parade at noon followed by festivities in the Tomales Community Park;
Annual Harvest Festival – Last Saturday in September,
10:00 am to 3:00pm
Fresh local produce, quilts, crafts, baked goods, raffle, silent auction, children's games, 4-H animals, Chicken BBQ starting at 11:30.
READ THE LATEST EDITION OF OUR NEW-LOOK NEWSLETTER! Thanks to Suzanne Lang for designing and laying it out. We would love our church community to contribute to the newsletter as we all have interesting tales to tell and information to offer. Please email or post your writing to the church office for inclusion in our next issue.
HISTORIC PHOTOGRAPHS OF TWO ROCK FROM 100 YEARS AGO